SINGLE-HUNG VS. DOUBLE-HUNG WINDOWS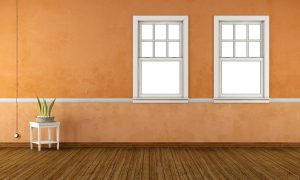 Replacement windows are one of the most important components of any home, as they affect its energy efficiency, beauty, and security. That's why, if you're searching for new replacement windows, you'll want to consider which ones will provide you with the utmost value. Two windows that are incredibly popular amongst homeowners throughout the United States are single-hung and double-hung windows. These two styles differ in several crucial ways, including:
Mode of Operation
Double-hung windows have two sashes that move up and down, while single-hung windows have one operational sash.
Cost
Single-hung windows typically cost less than double-hung windows because they contain less moving parts and are easier to manufacture and install.
Energy Efficiency
Single-hung and double-hung windows can provide the same level of energy efficiency as long as the window is installed properly and equipped with energy-efficient glass packages.
Ventilation
Double-hung windows have two operational sashes, so the top sash can be used to ventilate hot air while the bottom sash circulates the air, providing superior ventilation to single-hung windows, which only have one operational bottom sash.
Quint-Pro Siding & Windows
At Quint-Pro Siding & Windows, we offer single- and double-hung windows that are made of vinyl and designed to provide numerous benefits, including excellent energy efficiency, durability, and of course, beauty. Choose from a vast array of stains, finishes, glass packages, hardware options, and grilles for your new windows, and sit back as our experts install them using the utmost care and skill, ensuring a job well done. Contact us today to learn more about the single- and double-hung windows we offer and to schedule a consultation at your earliest convenience.