What Are the Parts of a Tilting Double-Hung Window?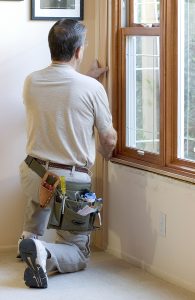 Every day, you look out of the windows of your home. But, do you ever look at your windows themselves? If you do, are you aware of how your windows are constructed and what mechanisms facilitate their operation?
If not, join the club. Most people aren't window experts, but it can be helpful to have a basic understanding of how windows operate when trying to make repairs or shopping for replacements. Let's take a brief look at the parts of a very popular window option—the tilting double-hung window—to better understand window components and how they may impact your home's security and energy performance.
The Basics of a Tilting Double-Hung Window
Double-hung windows feature two moveable sashes (the part of the window that holds the glass panes together). Each sash is secured in the window frame, which is attached to the house itself. These movable sashes allow the window to open on the top, bottom, or both, providing exceptional ventilation and functionality.
Tilting double-hung windows feature added components that allow the top and bottom sashes to tilt in as well as move up and down. Why is this useful? Sashes that tilt inward can easily be cleaned from the inside of the house, sparing you from going outside to wipe down the exterior portion of the window glass. This tilting feature is especially beneficial for homeowners who own two- or three-story homes.
We've covered window sashes and frames, but there are several other key components of a tilting double-hung window:
Jambs — Located inside the window frame along the sides, jambs enhance the window's structural stability and sometimes feature jambliners to help protect against water and air infiltration.
Sash locks and keepers — Found on the top of each sash, locks and keepers allow the sash to be locked, unlocked, and moved as necessary.
Balances — Located on the side of the window between the frame and sash, balances facilitate smooth, easy sash movement by counterbalancing the weight of the sash.
Pivot bars and lock shoes — These small but important components allow the sash to safely tilt inward without become unstable.
Tilt latches — Internal, slide-in, and surface-mounted tilt latches work to keep a tilting sash securely in its upright position.
Double-Hung Windows From Quint-Pro Siding & Windows
Quint-Pro Siding & Windows is the Plano, Texas, area's go-to source for high-performance vinyl replacement windows, including tilting double-hung windows that are a part of our exceedingly popular Advantage Plus Window line. These windows are:
Energy efficient
Easy to operate
Resistant to many types of damage from insects and moisture
Fully customizable
Let's get in touch! Contact Quint-Pro Siding & Windows today to learn about our selection of home windows and what sets us apart from the other guys in town. One of our friendly professionals will be glad to visit your home for a hassle-free, no-obligation replacement window estimate, during which you can find answers to any questions you may have and receive information about our simple financing options.