What is An Awning Window?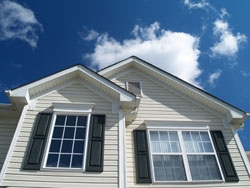 Awning windows are one of the most popular window styles, thanks to their versatility and functionality. Unlike many other types of windows, awning windows have hinges that are placed at the top, allowing them to open outward, forming a clear awning over the window space. Because of this unique design, awning windows provide many unique benefits, including:
Excellent Ventilation
Because of their unique design and placement, awning windows allow refreshing air to come into a home while keeping the elements out. So, even if you're in a rainstorm, you will still be able to have your awning windows open without worrying about rain coming in.
Better Security
Awning windows are smaller than traditional windows and are often placed higher up on the walls, making it far more difficult for intruders to get through.
Energy Efficiency
Awning windows have a tight seal and leak less air than traditional windows, allowing them to insulate your home and potentially lead to lower monthly heating and cooling costs.
Design Versatility
Awning windows come in a variety of shapes and designs, and because of their smaller size, can be placed higher on walls in combination with large stationary windows for a better view.
Our Selection
At Quint-Pro Siding & Windows, we offer awning windows that are made of top-quality vinyl and provide excellent durability, energy efficiency, security, and ease of maintenance. These windows are also available in an exciting array of stains, finishes, sizes, configurations, and other design options to ensure you achieve a custom look that you truly love. Contact us today to learn more, and to schedule a consultation at your home in the Plano, TX, area.