SHOULD YOU BUY CASEMENT WINDOWS?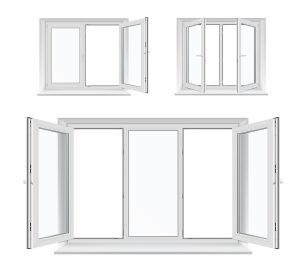 There are some types of windows that just stand apart for the unique architectural interest and visual appeal they provide, and casement windows are one of them. These windows are hinged on the side like a door and open sideways with a hand crank located on the inside of the house. This window style offers several different benefits that make them a worthwhile investment for a home, including:
Exceptional ventilation – No other window style provides the same level of ventilation that casement windows do. They consist of one sash that cranks open completely and allows for 100% of the vertical window opening (from top to bottom) to drive out stale indoor air.
Ease of operation – The crank used to operate casement windows makes it easy to open and close them, as there is no struggling to push open a heavy or stuck window.
Security – With other window styles, breaking the glass makes it easy to fully open the window, but the only way to open casement windows is to turn the crank, which is difficult to do through broken glass.
Energy efficiency – The locking mechanism on casement windows secures it in three places to the frame, which provides a maximum seal against the elements.
Quint-Pro Siding & Windows
If you want to invest in the best casement windows for your home, turn to the long-trusted home improvement experts at Quint-Pro Siding & Windows. We offer vinyl replacement windows that are stylish, energy efficient, and durable, and we will install them in a way that ensures they offer optimal beauty and performance long into the future. Contact us today for additional information and to get your window replacement project started!