ANALYZING DIFFERENT TYPES OF HOME WINDOW STYLES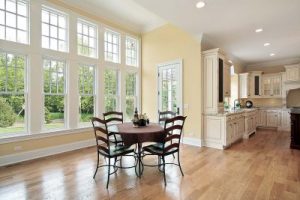 If you want to instantly transform the appearance of your home from the inside out, installing new windows will certainly do the trick. Even though shopping for new windows can be exciting as you imagine how beautiful your home will look, it can also be overwhelming due to the sheer amount of window style options available to you—how do you know which one is right for your home? Consider some of the most popular window styles and what makes each one unique:
Single-hung windows – These windows have a single sash, or operational panel, and they're one of the most inexpensive and energy efficient window styles.
Double-hung windows – Featuring two large sashes that slide up and down for double the ventilation, double-hung windows are one of the most popular types of windows, and they're ideal for homes with more traditional styles.
Casement windows – Casement windows crank open horizontally like a door, providing full top-to-bottom ventilation as well as a contemporary appearance to any home.
Awning windows – Awning windows open from the bottom when cranked, with the top edge fixed in place while the bottom pivots outward and up. This style is often placed higher on the walls for privacy and can be used in conjunction with large stationary windows for a better view.
Bay and bow windows – A bay window typically has three openings at angled projections beyond the exterior wall, while bow windows have four or five openings that form a softer curve. Both of these windows provide ample light and expansive views of the outdoors.
Sliding windows – These windows slide horizontally along the top and bottom tracks, making them one of the simplest styles. They are exceptionally easy to open and look great in mid-century modern home styles.
Quint-Pro Siding & Windows
If you want to outfit your home in the Plano, Texas, area with gorgeous new replacement windows, turn to the long trusted professionals at Quint-Pro Siding & Windows. We provide several different types of masterfully crafted vinyl replacement windows for homeowners to choose from, including casement, single-hung, and double-hung windows. Contact us today for additional information, and to schedule your free no-obligation consultation.