HOW TO CHOOSE THE BEST TYPE OF SIDING FOR YOUR HOUSE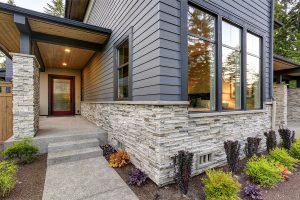 Siding plays several important roles for your home, including safeguarding it from the elements, insulating it, and enhancing its exterior appearance. That's why if you're in need of new siding for your house, you likely want to invest in a product that will give you the most value for your investment. Consider the following factors in order to find the best type of siding for your house:
Material
The material of your siding is perhaps the most important factor to consider when shopping around. There are numerous options available, among the most popular being vinyl, composite, fiber cement, engineered wood, and metal siding. Each of these siding materials offers its own unique benefits.
For instance, vinyl is affordable, energy efficient, and low maintenance, while options such as composite, fiber cement, and metal siding are exceptionally strong and enduring. If you want to achieve a uniquely jaw-dropping look, perhaps wood is the best solution for you. Consider the benefits that you find important and then look for siding materials that are designed to provide them.
Manufacturer
Some siding manufacturers are just better than others. Generally speaking, you should opt for names that have a longstanding reputation for the exceptional quality and craftsmanship of their products. James Hardie, LP SmartSide, and Royal Building Products are just a few of the siding manufacturers that are recognized for excellence time and again, so you can trust their offerings are a worthy investment.
Warranties
Most homeowners want to know that the siding they buy will be protected years after installation. Try to invest in siding that is backed by an ironclad warranty so you can have total peace of mind.
Turn to Quint-Pro
At Quint-Pro Siding & Windows, we are proud to offer a wide selection of siding options for our customers in the Plano, Texas, area, including vinyl, composite, fiber cement, and engineered wood siding. All of these choices are durable, low maintenance, and energy efficient, and are backed by a lifetime warranty to ensure your investment is protected.
As your contractor, we will use our professional insight to help you find siding that best suits your taste, home, and budget, and we will expertly install it to ensure decades of optimal beauty and performance. Contact Quint-Pro Siding & Windows today to learn more and to schedule your free, no-obligation consultation.