WHEN SHOULD YOU REPLACE VINYL SIDING?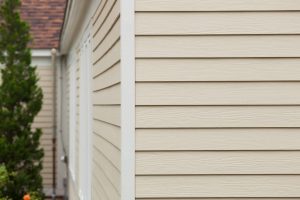 Vinyl siding is the most popular cladding choice on the market today, and for good reason! It offers a bevy of benefits that homeowners appreciate, including affordability, beauty, no-fuss durability, and energy efficiency. However, even the highest quality vinyl siding will need to be replaced at some point, and it is important to recognize when that point is so you can prevent costly repairs down the line. Some of the tell-tale signs that it is time for a vinyl siding replacement include when you've noticed:
Rot
Most vinyl siding does not rot; it is actually the wood siding underneath a lot of vinyl that can develop dry rot. This occurs when water seeps in under the vinyl exterior and causes fungus to develop, which leads to rotten siding that can be pulled apart easily.
Cracks
After years of being impacted by anything from hail to wayward baseballs, vinyl siding can begin to weaken and become noticeably loose or cracked.
Warping
House settling and temperature fluctuations can cause vinyl siding to expand and contract over time. If the siding is nailed on too tightly, it will not be able to move with these fluctuations, which can lead to warping and buckling.
Moisture Infiltration
If you have noticed peeling paint and/or the formation of mold on your interior walls, it could mean that moisture has gotten underneath your vinyl siding and is trapped inside of your walls.
Turn to Quint-Pro Siding & Windows
If it is time for a vinyl siding replacement at your home in the Plano, Texas, area, turn to the leading home improvement experts at Quint-Pro Siding & Windows. We offer Exterior Portfolio Market Square vinyl siding that has the Integri-Lock® locking system, which maximizes durability and will allow your siding to withstand whatever Mother Nature has in store year after year. Moreover, we have a team of expert installers who will leave enough room for your vinyl siding to expand and contract with temperature fluctuations, so you won't have to worry about it warping or buckling.
Contact Quint-Pro today to learn more about our vinyl siding and the many benefits it offers. We would be happy to answer any questions you may have and schedule your consultation.