WHEN SHOULD YOU REPLACE YOUR SIDING?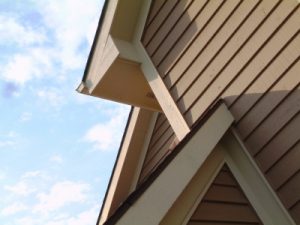 While you may not think about your siding all of the time, it is always playing several crucial roles for your home, including enhancing its beauty, strength, and energy efficiency. That's why, if your siding is underperforming, it can be diminishing all of these aspects of your home, leaving you to wonder whether it is time for a replacement. You may need to invest in new siding if you're noticing:
Higher Energy Bills
If you feel drafts near walls and windows, it could be because your siding is no longer insulating your home. This not only makes your home's interior uncomfortable, but it also causes a strain on your HVAC system and often leads to higher monthly energy costs. Investing in new, energy-efficient siding will help increase your home's thermal performance and make a world of difference.
Excess Moisture
Water stains on your interior walls or evidence of water swell under your wallpaper point to your siding losing its ability to keep moisture out of your home. Perform regular inspections, particularly after storms, on the inside of your home's exterior walls and check the condition of the same area of your home's exterior to see if there's any problematic moisture buildup.
Rot
Siding protects your home from the elements to keep you comfortable and safe, but if you've noticed rot and crumbling has begun to spread across the exterior of its walls, it will no longer be able to perform this role—which means replacement siding may be in order.
Cracks & Gaps
Cracks and gaps in your siding are not only unsightly but also detrimental to your home's structural integrity, leading to costly and devastating problems such as moisture infiltration and insect infestation.
Turn to Quint-Pro Siding & Windows
If the time has come for you to invest in new siding for your home, turn to the long-trusted experts at Quint-Pro Siding & Windows. We are proud to provide several gorgeous and high-performance siding options, including composite, vinyl, fiber cement, and engineered wood. Contact us today for more information!