WHAT IS COMPOSITE SIDING?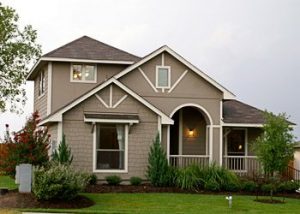 If you're on the hunt for new siding, you've likely heard about composite siding—but what exactly is it? The answer to that question depends on what type of composite siding you invest in, as there are two main types: OSB (Oriental Strand Board) and fiber cement. OSB siding is made from compressed shredded wood or sawdust, so it looks a lot like real wood but, unlike wood, offers great protection against rot and pests like termites. Fiber cement siding is a composite siding that is composed of cement, sand, and cellulose fiber. It is also known for being extremely long lasting and being able to withstand fire, water damage, and termites. While each of these composite siding options offers its own unique benefits, they are both:
Attractive
Whether your home's aesthetic is traditional, contemporary, or anything in between, it will benefit from the beauty of composite siding. Available in a wide range of colors, textures, and styles, your siding can be customized to suit your taste and complement the unique character of your home. And, since composite siding doesn't fade in harsh climates, you can count on it to maintain its beauty long after installation.
Durable & Low Maintenance
Composite siding will be able to withstand exposure to harsh elements year after year without warping, cracking, rotting, chipping, peeling, fading, or staining over time. This means you won't have to worry about scraping, sanding, or restaining your siding in order to maintain its like-new appearance.
Energy Efficient
Composite siding is much thicker than vinyl, and therefore offers superior insulating capabilities. By insulating your home and keeping it warmer during the winter and cooler during the summer, the strain on your HVAC system will reduce, which can potentially lead to lower monthly heating and cooling costs.
Quint-Pro Siding & Windows
At Quint-Pro Siding & Windows, we are proud to offer masterfully crafted composite siding, including strong, durable, and energy-efficient fiber cement siding by James Hardie. If you'd like to learn more about our top-of-the-line selection, contact our friendly and knowledgeable professionals today. We'd be happy to schedule a free, no-obligation consultation at your earliest convenience.