Maintaining Your Home's Exterior Made Simple: Composite Siding
The Composite Siding Revolution
Every homeowner understands the value of maintaining a pristine home exterior. Not only does it enhance curb appeal but also increases the property's value. In the siding world, composite has emerged as a revolutionary player, combining aesthetics with functionality. At Quint-Pro Siding & Windows, we've seen firsthand how composite siding has transformed homes in the Greater Dallas Area. Let's delve deeper into what makes it such a game-changer.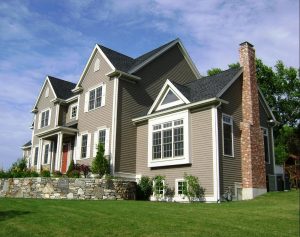 ---
Effortless Beauty: Mimicking Classic Wood Without the Hassle
One of the standout features of composite siding is its unparalleled ability to emulate the timeless beauty of traditional wood. The intricate grain patterns and rich colors make it indistinguishable from its natural counterpart. Yet, unlike classic wood, composite siding remains free from regular painting, staining, or sealing. This effortless beauty makes it a favorite among Rockwall, Rowlett, and Plano homeowners.
---
Durability Meets Functionality: Composite's Stand Against Time and Elements
Texas weather can be unpredictable. From sweltering summers to hail-laden storms, a siding material must be robust enough to withstand diverse conditions. Fortunately, composite siding stands tall. Its inherent resistance to:
Hail and Impact Damage: Say goodbye to dents and cracks after a storm.
Termites and Pests: Preserve the integrity of your home without fear of infestation.
Rot and Fungal Decay: Composite doesn't retain moisture, ensuring a longer lifespan.
---
Eco-Friendly and Sustainable: A Win for the Environment
Composite siding is typically made from a blend of wood fibers and other recycled materials. This not only reduces the demand for virgin wood but also ensures fewer trees are cut down. The result? A sustainable choice that's not only beneficial for homeowners but also for Mother Nature.
---
Professional Installation: The Quint-Pro Difference
Having a stellar product is just half the equation. At Quint-Pro Siding & Windows, our commitment to excellence doesn't stop at providing top-notch composite siding options. Our team of seasoned technicians ensures a meticulous installation process, adhering to industry best practices. With our expertise, you can rest assured that your home's exterior will be a perfect blend of beauty, durability, and efficiency.
---
Invest in the Future with Composite Siding
In the evolving world of home exteriors, this siding has firmly established its position as a frontrunner. With its array of benefits – from unmatched aesthetics to formidable durability – it's clear why it's considered a game-changer. If you're contemplating an exterior facelift for your home, consider the composite advantage. Reach out to Quint-Pro Siding & Windows today for an in-depth consultation and transform your home's exterior into a lasting masterpiece.
For inquiries and more details about our offerings, visit Quint-Pro Siding & Windows or contact our friendly team based in the Greater Dallas Area.