Professionally Installed Siding for Homeowners in Flower Mound, TX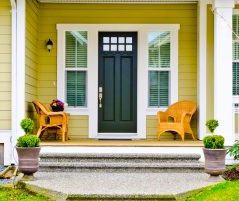 Siding is a key component of any home. This is because siding serves as a protective barrier between your residence and anything Mother Nature may have in store. If the siding on your Flower Mound, Texas, home is old, worn, and even showing signs of damage, now is the time to turn to the experts at Quint-Pro Siding & Windows.
We source our siding from industry-leading manufacturers, ensuring you receive a high-quality product that is well worth the investment. What's more, with new siding in place, your home will have improved energy efficiency and curb appeal you'll love for years to come.
The Siding We Offer
When you partner with us, you can expect our skilled and experienced team to outfit your home with best-in-class siding that is known for its durability and beauty.
We offer a range of siding options, including:
Vinyl siding
Composite siding
Engineered wood siding
Whether you are after a rustic or traditional look, we have you covered. And from design concepts through installation, we will coordinate every aspect of your siding project, and guide you through all of our siding options.
Schedule a Free Siding Consultation
Don't settle for siding that does not provide your Flower Mound, TX, home with the protection it requires. Instead, contact the professionals at Quint-Pro Siding & Windows today. We will help you schedule an in-home, no-hassle siding consultation at your convenience. And during this process, we will go over our selection of siding systems and financing options.