Choosing Among the Best Siding Companies in Plano, TX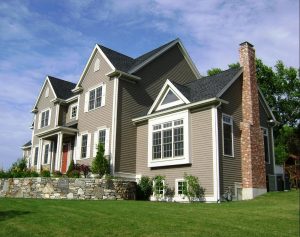 At Quint-Pro Siding & Windows, we know you have your choice of siding companies in Plano, Texas. We're honored you're considering working with us. We believe we're the best of the best. Let us tell you why.
Our Siding Products
As a professional siding company, we believe in offering our customers premium siding products. These include
Mill Run Solid Core Composite siding by Crane
This insulated composite siding is energy-efficient and maintenance-free. You never have to sand or paint it—just hose it down twice a year and it'll stay as attractive as the day we installed it. It also reduces outside noise by up to 45%.
Mill Run Solid Core siding comes with a lifetime warranty, including hail damage, although it's impact resistant. You can get this siding in different styles, such as dutchlap, flatboards, and board and batten. It's also available in more than a dozen color options.
Exterior Portfolio Market Square Siding
This vinyl siding has a lovely textured grain that resembles cedar wood. But it's maintenance-free and never needs to be painted. It's installed with a rolled-over nailing hem, making it impervious to winds up to 180 mph. It features an Integri-Lock® locking system, which snaps each piece to the next, providing a secure, sound installation. It comes in more than two dozen color choices.
When You Think of Siding Companies, Think Quint-Pro
There are many siding companies in Plano, TX, but none of them offer the same outstanding products and exemplary customer service that Quint-Pro Siding & Windows does. We're the best of the best, as indicated by our A+ rating from the Better Business Bureau and our 5-star rating on Google—with over 110 reviews. Our customers say we excel at being professional, punctual, and responsive, while providing great value and quality. Contact us today to schedule a consultation for your house siding project.