Choose Engineered Wood Siding for Your Home in Allen, TX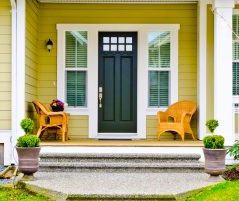 Are you looking for engineered wood siding for your home in the Allen, Texas, area? If so, the company to turn to is Quint-Pro Siding & Windows. We are pleased to be your source for top-of-the-line engineered wood siding and professional siding installation services in the greater Allen, TX, area. You can rely on our team to provide you with the complete siding replacement services you need to beautify and protect your home.
Benefits of Engineered Wood Siding
Engineered wood siding offers the aesthetics and beauty of natural wood with enhanced performance benefits. Traditional wood is exceptionally prone to rot and deterioration from water and pest damage. Additionally, it typically requires scraping and re-painting over the years to help keep it protected and maintain its appearance. With engineered wood siding, you'll receive a product that is resistant to wind, hail, termites, and more, making it a far more durable and reliable material for your home in Allen, TX.
Professional Siding Replacement Services
You can rely on Quint-Pro Siding & Windows to install your new engineered wood siding with precision and care. We go above and beyond what typical siding companies do so that we can ensure the very best results. We'll fully wrap your home in a protective layer, use heavy-duty hardware to secure your siding in place, and provide you with top-of-the-line products so that you'll be able to enjoy the benefits of your new house siding for years to come.
To learn more about the engineered wood siding we offer and install for homeowners throughout Allen, TX, contact Quint-Pro Siding & Windows today. Financing is available for qualified homeowners.