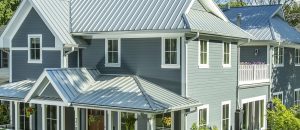 You Need Composite Siding for Your Wylie, TX, Home
Composite siding from Quint-Pro Siding & Windows is an excellent choice for your Wylie, Texas, home because it's both attractive and durable. You can choose from more than a dozen colors to meet your personal aesthetic. And it's impact-resistant, standing up to our Texas hailstorms. If you do wind up with a dent from a hailstone, or from anything else, it's covered under your lifetime warranty.
Why You Want Composite House Siding
Composite siding is a laminated vinyl with a foam backing for insulation. That makes it extremely energy efficient, and you may see a drop in your heating and cooling bills after it's installed on your home. It's incredibly low maintenance as it never needs to be sanded or painted. All you have to do it hose it down a couple of times a year—we recommend spring and fall—and it will keep looking as good as it did the day we first installed it.
Quint-Pro Siding & Windows' installation is world-class. First, we wrap your house before we install your composite house siding to better protect it. We use all the right parts when we put up siding, including hurricane clips and tiebacks to make sure your home is as waterproof as we can make it. We use a soffit material that's uniform and ventilated to make sure your attic and roof don't get superheated. Then we apply a PVC trim that's been bent to fit your house by our expert installers. We always use screws instead of nails because they hold longer and work better.
Why You Should Choose Quint-Pro Siding & Windows for Your Composite Siding
When you want composite siding on your house, you want the best company installing it. That's Quint-Pro Siding & Windows. We hold an A+ rating from the Better Business Bureau and a 5-star rating on Google with over 110 reviews. We're proudest, though, of our long list of satisfied customers, many of whom are your neighbors in Wylie, TX. Contact us today to discuss your siding needs.