Vinyl Windows for Homes in the Rockwall, TX, Area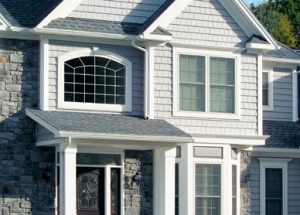 If the time has come for you to invest in new windows for your home, you can confidently turn to the professionals at Quint-Pro Siding & Windows. We are pleased to provide masterfully crafted windows made of vinyl and engineered to last a lifetime on your home in the Rockwall, Texas, area. In fact, we are so confident in the long-term performance of the windows we provide that we back them with an unbeatable lifetime warranty, so you can feel confident that your investment is protected.
Why Vinyl?
While there's no shortage of window material options on the market today, there are several notable reasons why we offer vinyl windows to our customers. For instance, they provide exceptional:
Energy efficiency – Vinyl windows will help keep your home warmer during the winter and cooler during the summer, which will lessen the strain on your HVAC system to maintain comfortable interior temperatures and potentially lower energy costs.
Durability – Our windows will not warp, rot, or deteriorate over time, so you will be able to enjoy their lovely appearance and optimal performance for many years to come.
Beauty – Our windows are available in a wide array of colors, finishes, grid configurations, and styles, so you're sure to find something that beautifully complements your home from the inside out.
Why Quint-Pro Siding & Windows?
Over a decade ago, our company was founded with the goal of providing a better buying experience for customers looking to make home renovations. Too often, contractors treat their customers like a number, engaging in high-pressure sales tactics, rush installations, and impersonal customer service. But, at Quint-Pro Siding & Windows, we do the exact opposite, instead placing a strong emphasis on communication and creating a lasting relationship with our customers. As your contractor, we'll take a courteous, consultative approach, offering you our extensive industry expertise and helpful guidance to ensure you find the ideal windows for your home and budget, and that the process is hassle-free from start to finish.
Part of ensuring a hassle-free experience also means providing 5-star installations. Unlike other home improvement contractors who cut corners, we are incredibly thorough and detail-oriented with our installations, taking the time to ensure that your windows fit your home perfectly and perform as intended for decades to come.
If you would like to learn more about our company and the vinyl windows we offer, contact Quint-Pro Siding & Windows today. We are proud to serve homeowners in the Rockwall, TX, area, and beyond.