Benefits of Vinyl Siding for Your Home in The Colony, TX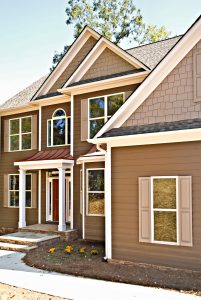 Vinyl siding is a popular siding option among homeowners in and around The Colony, Texas. Offering durability and a gorgeous aesthetic in a low-maintenance and cost-effective package, vinyl siding is a smart investment that will improve your home's appearance and stand the test of time. And no one knows this better than Quint-Pro, your local source for top-notch vinyl siding and installation services.
Offering Top-of-the-Line Vinyl Siding Options
At Quint-Pro Siding & Windows, we're pleased to offer a selection of high-performing vinyl siding options for homeowners throughout The Colony, TX. Our Exterior Portfolio Market Square vinyl siding features:
Premium vinyl that is low maintenance and designed to last for years to come
Energy-efficient components to enhance the comfort and thermal performance of your home
The texture of natural woodgrain for an attractive and sophisticated aesthetic
Numerous color options to choose from to boost your home's curb appeal
Integri-Lock® locking systems for superior resistance against high winds and harsh storms
A limited lifetime warranty to keep your new siding protected
What's more, you can rely on the professionals at Quint-Pro Siding & Windows to provide the professional siding installation services you need. We'll ensure your new vinyl siding is correctly secured for lasting durability and beauty that you'll be able to enjoy for decades.
Contact Quint-Pro Siding & Windows today to learn more about the benefits of choosing our vinyl siding for your home in or near The Colony, TX.