Vinyl Siding from Quint-Pro is an Excellent Choice for Your Rowlett, TX, Home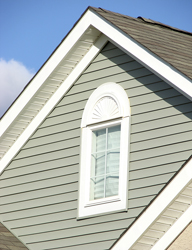 When you think of everything your home's exterior faces throughout the year – heavy winds, hail, rainfall, UV rays – it makes sense to invest in a siding that can withstand exposure to all of these elements year after year. At Quint-Pro Siding & Windows, that's exactly what we can provide. We offer homeowners in the Rowlett, Texas, area Mill Run SolidCore Composite vinyl siding that provides a number of benefits, including exceptional:
Energy efficiency – Our laminated vinyl siding has a foam backing that helps insulate your home, keeping it warmer during the winter and cooler during the summer. This helps lessen the burden on your HVAC system to maintain comfortable interior temperatures and can potentially help lower your energy costs.
No-fuss durability – This siding will never warp, rot, fade, or deteriorate over time, so you won't have to worry about painting it in the future to keep it looking like new; simply wash it occasionally with soap and water.
Beauty – You will be able to choose from dozens of colors and styles (including dutchlap, board and batten, and flatboard), so you can find a look that suits your taste and beautifully complements your home's façade.
Expert Installations
Furthermore, we will take great care to install your siding properly, wrapping your whole home before installing the cladding and including pieces like hurricane clips and tie-backs to ensure that your home is protected from the elements for decades to come.
For additional information about the vinyl siding we provide, contact Quint-Pro Siding & Windows today. We would be happy to tell you about the flexible financing options we offer to Rowlett, TX, homeowners who qualify.