Top-Quality Vinyl Siding for Your Carrollton, TX, Home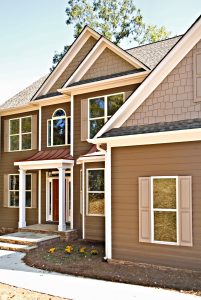 The siding on your Carrollton, Texas, home should add curb appeal as well as protect your house from the elements. Without well-crafted cladding, your home is vulnerable to a number of issues, such as mold and mildew growth as well as structural damage. For premium vinyl siding that will enhance the beauty of your home while protecting it from inclement weather, turn to the trusted professionals at Quint-Pro Siding & Windows. We offer Exterior Portfolio Market Square siding that is beautiful and available in a variety of colors, so you are sure to find a color you love.
Not only is the vinyl siding we offer visually appealing, it's also incredibly durable, standing tough against what Mother Nature throws its way. Furthermore, it's energy efficient, meaning it will help keep your home cooler in the summer and warmer in the winter. Since your HVAC system won't have to work so hard to regulate the internal temperature of your home, you might enjoy lower monthly energy costs. That's not all, though. Your new home siding will also be backed by an outstanding limited lifetime warranty for added peace of mind.
Our Commitment to Customer Satisfaction & Professional Installations
At Quint-Pro Siding & Windows, we know that for siding to look and function as intended, it needs to be installed properly. This is why our installations are completed by experienced and highly skilled professionals who are dedicated to customer satisfaction and expert installations.
To learn more about the vinyl siding we sell and install in the Carrollton, TX, home, contact Quint-Pro Siding & Windows today. When you do, don't forget to ask about the financing opportunities we have available for qualified homeowners.