Vinyl Replacement Windows for Homeowners in the Rowlett, TX, Area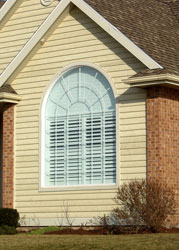 Are you searching for the best new replacement windows for your home in the Rowlett, Texas, area? If so, turn to the trusted professionals at Quint-Pro Siding & Windows. We are proud to offer high-end products and services to discerning customers who want the very best for their homes. We understand that diving into a renovation can seem like an intimidating task, but we'll use our extensive expertise and the utmost care to provide you with finished results that not only meet – but exceed – your expectations.
Benefits of Our Vinyl Replacement Windows
At Quint-Pro Siding & Windows, we offer replacement windows that are made of vinyl, and are designed to offer numerous benefits, including:
Energy efficiency – Vinyl frames are popular for their exceptional performance, but our windows also have additional features such as Low-E glass, argon gas fills, and premium weatherstripping that will work together to prevent air from escaping your home. This will help reduce the strain on your HVAC system to maintain comfortable interior temperatures and can potentially lower your energy costs.
Ease of maintenance – Our windows won't warp, rot, or deteriorate over time, so you won't have to worry about sanding, scraping, or restaining them in order to maintain their like-new appearance.
Beauty – Choose from a stunning array of colors, finishes, grille configurations, and styles for your replacement windows that will suit your taste and complement your home.
If you'd like to learn more about the vinyl replacement windows we offer, feel free to contact our knowledgeable professionals at Quint-Pro Siding & Windows today. We are happy to serve homeowners in the Rowlett, TX, area.