Benefits of Single-Hung Windows for Your Plano, TX, Home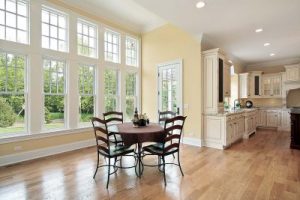 There are numerous window styles available on the market today—from expansive and opulent bow windows to quaint garden windows and contemporary sliding windows. But there is one window that is installed more than any other: single-hung windows. These windows have a bottom sash that moves up and down while the top sash is fixed. It is a classic choice for any home, as it offers numerous benefits, including:
Affordability – While the manufacturer and material must always be taken into account, single-hung windows are often more affordable than other types of windows, since there are less moving parts.
Energy efficiency – Because there is only one moveable sash, there is less opportunity for air infiltration. This means that your home will remain better insulated, which will lower the burden on your HVAC system and potentially lead to lower energy costs.
Durability – The simplified mechanics of the unit means that there are fewer parts to fail in operation and performance.
Versatility – Single-hung windows have a simple and timeless appearance that can suit homes that are every style from traditional to contemporary.
Quint-Pro Siding & Windows
At Quint-Pro Siding & Windows, we have a top-of-the-line selection of single-hung windows that provide all of the benefits mentioned above and more. They are stylish, energy-efficient, low maintenance, and long-lasting, and our professionals will expertly install them to ensure you get the most value for your investment. Contact us today to learn more about our replacement windows and schedule a consultation at your Plano, TX, home.