The Finest Siding Selection in the Rowlett, TX, Area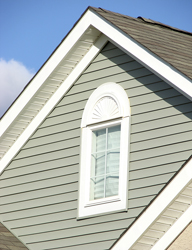 When you think about all that your siding is battered by day in and day out, it's easy to understand why you need a product that will be tough enough to perform for decades to come. At Quint-Pro Siding & Windows, we can provide you with top-of-the-line siding that will instantly enhance the curb appeal of your home and protect it from the harsh elements of Mother Nature. We offer four different kinds of siding for homeowners in the Rowlett, Texas, area, including:
Vinyl
Vinyl siding is the most popular siding in the country, and for good reason. It is affordable, tough, energy efficient, and provides lasting, low-maintenance beauty that homeowners love.
Composite
This vinyl, laminated, foam-backed insulated siding is incredibly energy efficient, impact- and fade-resistant, and virtually maintenance-free. Plus, it can precisely replicate the charming and sophisticated look of wood, and is available in several colors and styles, such as dutchlap and board and batten, so you're sure to find a look that suits your unique taste and beautifies your home's façade.
Engineered Wood
Engineered wood siding is ideal for anyone who wants the pristine look of wood but without any of the maintenance requirements. It is incredibly durable, and can resist damage from hail, termites, and fungal decay, as well as impact from debris or the occasional wayward football. It can also be painted and is highly customizable, so you can bring your exact vision for your siding to life.
Fiber Cement
We offer fiber cement siding by industry-leading manufacturer James Hardie. This siding is uniquely designed to stand up to your local climate. So, whether it is hot and humid, or wet and freezing, you can rest assured your siding will not warp, split, crack, or deteriorate over time.
If you would like to learn more about the composite, fiber cement, and engineered wood siding that we offer to homeowners in the Rowlett, TX, area, contact the pros at Quint-Pro Siding & Windows today.