Other Siding Replacement Companies in Rowlett, TX, Don't Compare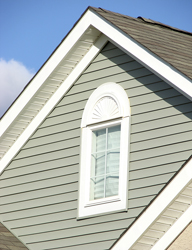 When you're making an investment as important as siding, don't you want to partner with a company that will care about your total satisfaction? At Quint-Pro Siding & Windows, we are that company for homeowners in the Rowlett, Texas, area. We stand apart from other siding replacement companies for our integrity and unwavering commitment to producing results that not only meet but exceed our customers' expectations. This is a statement that is evidenced by our prestigious A+ rating with the Better Business Bureau year after year.
An Unbeatable Selection
At Quint-Pro Siding & Windows, we believe in the power of choice, which is why we offer several different types of siding for homeowners to choose from, including composite siding, vinyl siding, fiber cement siding, and engineered wood siding. While each of these siding options offer their own unique features and benefits, you can count on all of them to provide excellent:
Energy efficiency – Our siding options will help insulate your home, keeping it warmer during the winter and cooler during the summer. This will reduce the strain on your HVAC system to maintain comfortable interior temperatures and potentially lead to lower monthly energy costs.
Durability – Our siding will not warp, rot, crack, peel, fade, or stain over time, so you can count on it to provide optimal beauty and performance benefits long into the future.
Style – Our siding is available in an exciting array of colors, finishes, and styles, so you can achieve a unique look that will make your home the envy of the neighborhood.
If you would like additional information about why we stand apart from other siding replacement companies in the Rowlett, TX, area, contact Quint-Pro Siding & Windows today. We would be happy to provide you with more information and answer any questions you may have.