The Best Siding Installation Contractors in the Rowlett, TX, Area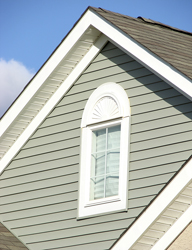 Not all siding installation contractors are created equal. Some offer a small, subpar selection, while others don't provide the kind of expert installations required for such an important investment. Thankfully, if you live in the Rowlett, Texas, area, you can avoid these issues by going straight to Quint-Pro Siding & Windows. We are a reputable home improvement contractor who offer beautiful, high-performance products and top-of-the-line installations, and we'd love to outfit your home with new siding you'll love for decades to come.
A Wide Selection
At Quint-Pro Siding & Windows, we know that our customers want options, which is why we offer three different types of siding to choose from: vinyl, fiber cement, and engineered wood. While each of these popular siding options vary in their own unique ways, they are all engineered to provide benefits that homeowners find important, including:
Energy efficiency – Our siding will help insulate your home, keeping its interior warmer during the winter and cooler during the summer. This will help reduce the burden on your HVAC system to maintain comfortable temperatures and lead to lower monthly utility costs.
Durability – Our siding is tough enough to withstand strong winds, impact from hail, daily exposure to UV rays, and other harsh natural elements without warping, rotting, or deteriorating over time.
Customizability – You will be able to choose from an enormous range of stunning colors, finishes, and styles to achieve a unique look for your siding that boosts your home's curb appeal and becomes the envy of the neighborhood.
Furthermore, we know that the quality of your siding installation is crucial to its long-term performance. That's why our technicians take the time to wrap your whole home before installation and use all the proper parts, such as tie-backs and hurricane clips, to protect your home from moisture and other related damage. This distinguishes us from a lot of other siding contractors who do not place a strong emphasis on thorough, precise installations.
If you would like to learn more about why we are the go-to siding installation contractors in the Rowlett, TX, area, contact Quint-Pro Siding & Windows today. We will gladly answer any questions you may have about our selection and tell you about the convenient financing options available.