Energy-Efficient Replacement Windows for Homes in & Around Carrollton, TX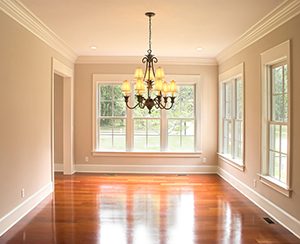 Do you want to add energy-efficient replacement windows to your Carrollton, Texas, home? If so, allow the skilled professionals at Quint-Pro Siding & Windows to assist you. We offer top-quality windows that are designed with numerous energy-efficient features that will help your home maintain consistent and comfortable temperatures throughout the year, such as:
Vinyl frames – Vinyl is a highly durable, low-maintenance framing material that minimizes heat transfer and helps insulate better than other frame options.
Low-E glass – This special coating helps reflect infrared light, keeping heat inside during the winter and outside in the summer. It also reflects ultraviolet light, which can help protect your interior furnishings from fading.
Gas fills – Argon and krypton gases are non-toxic, odorless, and colorless gases that are thicker than air, therefore they provide superior insulation.
Multiple panes – Two panes of glass with an air or gas-filled space in the middle insulates better than a single pane of gas. Some replacement windows include three or more panes of glass for even greater insulation, as well as impact- and noise-resistance.
Together, these features will prevent your HVAC system from having to work overtime, meaning there's a good chance you'll see a decrease in your monthly energy costs.
But, That's Not All…
In addition to being energy-efficient, the vinyl replacement windows we offer are incredibly beautiful and customizable. You will love picking from the bevy of stains, finishes, configurations, hardware, and decorative glass options, as well as from several stunning styles such as single-hung, double-hung, and casement. The result will be far from cookie cutter; you'll receive windows that reflect your taste and are uniquely suited to complement your home on the inside and out. And, since our vinyl windows are tough and resistant to warping, cracking, peeling, fading, and staining, you can count on them to maintain their gorgeous appearance for many years to come—with very little maintenance required on your part!
Professional Window Installations by Quint-Pro Siding & Windows
When you turn to us for your replacement windows, you can also rest easy knowing highly skilled professionals will get the job done right the first time. They will use their expertise to make certain your new home windows are installed flawlessly, so you can begin enjoying their benefits as quickly as possible. The best part? We will back their work with a labor warranty, in addition to our unbeatable lifetime product warranty, so you can feel confident knowing that your investment is protected.
Let's Get Started
Are you ready to get one step closer to enjoying beautiful, durable, and energy-efficient replacement windows in your Carrollton, TX, home? If so, contact Quint-Pro Siding & Windows today. We'll be delighted to answer any questions you have and schedule you for informative, no-pressure consultation.