Stylish & Built-to-Last Replacement Windows for Your Allen, TX, Home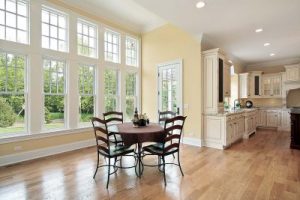 Are you tired of dealing with the uncomfortable drafts that are entering through the windows of your Allen, Texas, home? Or, are you sick of your windows sticking every time you try to open or close them? If this is the case, allow the skilled professionals at Quint-Pro Siding & Windows to provide you with the perfect replacement windows for your home. We are a home improvement company that has been serving the community for many years, and we've garnered a prestigious reputation for our industry-leading products, world-class customer service, and expert installations. When you turn to us for new replacement windows, you can expect to receive a product that suits your unique taste and complements your home's character; windows that beautify your home on the inside and out for decades to come.
Benefits You'll Love
At Quint-Pro Siding & Windows, we offer replacement windows that are made of vinyl and produced by some of the industry's premier manufacturers, including Advantage Plus and . These windows are:
Visually appealing – The windows we offer are designed to add beauty and curb appeal to any home they are installed on. And, since they're available in a wide range of styles—including casement, double-hung, and single-hung—as well as numerous other design options, you'll be able to get a customized look that is all your own.
Durable – Our replacement windows will remain resistant to warping, rotting, cracking, chipping, peeling, fading, and staining over time, so you can count on them to maintain their beautiful appearance.
Low maintenance – Our windows won't need to be sanded, scraped and re-stained a few years down the line. In fact, an occasional wash is all that's required to keep our windows looking like-new.
Energy efficient – Our windows are designed with numerous insulating features, including multiple glass panes, argon gas fills, and advanced weatherstripping. These components will help your home's interior stay warmer in the winter and cooler in the summer, lowering the strain on your HVAC system to maintain comfortable interior temperatures and potentially reducing your monthly energy costs.
Backed by an impressive lifetime warranty – Our premium windows are protected by an outstanding warranty, providing you with added peace of mind.
Professional Replacement Window Installation Services
Furthermore, we know that your windows will only perform as advertised if they have been installed properly, which is why we place such a strong emphasis on providing quality installations. Our skilled team of craftsmen uses best practices while installing our windows to ensure that they look and function optimally long into the future. In fact, they've helped us earn accolades such as the HomeAdvisor Seal of Approval for the exceptional work they do, so you can rest assured your project will be in the right hands.
For more information about the replacement windows we can install on your home in the Allen area, contact Quint-Pro Siding & Windows today. When you do, don't forget to ask about the financing opportunities we have available for qualified homeowners.