The Highest Caliber House Windows in the Plano, TX, Area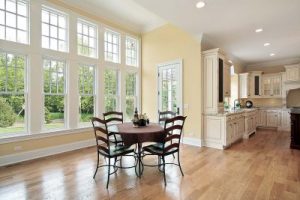 As homeowners, we may not realize the crucial roles that our windows play. Not only are they supposed to provide ventilation, but they also influence your home's energy efficiency, and interior and exterior appearance. To invest in replacement windows that will enhance your home in all of these pivotal ways, turn to Quint-Pro Siding & Windows. We offer vinyl replacement windows by industry-leading manufacturers Advantage Plus that are made of vinyl and are:
Energy-Efficient
Our house windows are designed with several features that will help improve your home's thermal performance, including:
Multi-pane glass, which, with an air or gas-filled space in the middle, insulates far better than single-pane glass
Argon gas fills, which is an odorless, colorless, non-toxic gas that is thicker than regular air and therefore provides better insulation
Low-E glass coating, which reflects infrared light and helps keep heat inside during the winter and outside during the summer
This means that your new windows will help regulate the internal temperature of your home, preventing your HVAC system from working overtime. As a result, you can enjoy more consistent and comfortable temperatures in your home throughout the seasons, and you might even find that your energy costs have decreased.
Customizable & Stylish
In addition to being exceptionally energy-efficient, our replacement windows are crafted with an extreme attention to detail that makes them among the most beautiful windows on the market today. Choose from an exciting array of stains, finishes, trim, hardware, and grille configurations, as well as several stunning window styles, such as casement, single-hung, double-hung, and more. The result will be replacement windows that reflect your personal style and instantly lend a fresh, polished, and gorgeous new look to your home.
Easy to Operate & Simple to Clean
At Quint-Pro Siding & Windows, we offer products that are low-maintenance and essentially effortless to use. In fact, our Advantage Plus windows are engineered with a tilt-in slash, making them easy to wipe down. And, fully extruded lift rails will make it easy for you to smoothly open and close your new windows. What's more, you can have added peace of mind knowing that that your home upgrades are protected, as they'll be backed by an excellent lifetime warranty.
Expertly Installed
The quality of our house windows means nothing if they aren't installed properly, which is precisely why we place such a strong emphasis on our installations. Our highly skilled, trained, and experienced professionals never take shortcuts, but instead will go the extra mile to ensure that your replacement windows fit your home flawlessly and can offer their full performance benefits long into the future.
Contact Quint-Pro Siding & Windows today to learn more about the beautiful and energy-efficient replacement windows we can install on your house in the Plano, TX, area. We'll be delighted to answer any questions you have and speak with you about the financing opportunities we have available.