Strong & Stylish House Siding in the Rockwall, TX, Area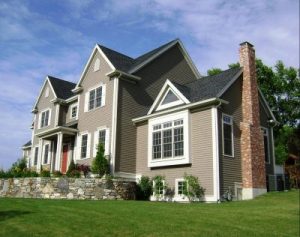 Investing in new siding for your house may seem intimidating, but the professionals at Quint-Pro Siding & Windows can make it easy from start to finish. We have been serving homeowners in the Rockwall, Texas, area for more than a decade, and have tried-and-true processes in place to help house siding projects run smoothly and create a stress-free experience for our customers. Our goal is to provide you with finished results that not only meet – but exceed – your expectations. Our consistent ability to do that for past customers throughout the years has earned us a prestigious reputation for excellence, as evidenced by our A rating with the Better Business Bureau.
Mill Run SolidCore Composite Siding
At Quint-Pro Siding & Windows, we offer several house siding options for our customers, but our most popular offering is our Mill Run SolidCore Composite siding. This is a vinyl, laminated, and foam-backed insulated siding that is:
Energy efficient, as it helps keep your home warmer during the winter and cooler during the summer, thereby lowering the strain on your HVAC system to maintain comfortable interior temperatures
Maintenance-free, so you'll only need to give it an occasional wash with soap and water to keep it looking like new
Strong and able to withstand impact from extreme winds, hail, and the occasional wayward football
Beautiful, as it replicates the charming look of woodgrain and is available in several stunning styles, such as Dutch lap, flat board, board and batten, and many more
Contact Quint-Pro Siding & Windows today to learn more about the many benefits our house siding offers to homeowners in the Rockwall, TX, area.