Expert Home Window Replacement Services in Rowlett, TX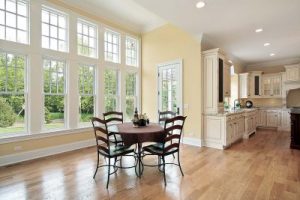 If you're looking for top-of-the-line home window replacement services in Rowlett, Texas, you don't have to look far; simply turn to the long-trusted professionals at Quint-Pro Siding & Windows. We are an experienced home remodeler that takes pride in our work and strives to provide each customer with a five-star experience. When you turn to us for new replacement windows, you can expect us to provide you with a first-rate:
Selection
At Quint-Pro Siding & Windows, we are proud to offer replacement windows that are made by two industry-leading manufacturers renowned for their unwavering commitment to quality and craftsmanship: Advantage Plus. Made of vinyl, these windows offer numerous benefits, including exceptional energy efficiency, durability, and ease of maintenance. They're also available in a wide array of colors, finishes, grille configurations, and styles, so you're sure to achieve a look that suits your unique taste and enhances the beauty of your home from the inside out.
Installation
While the quality of your home replacement windows is important, the quality of the installation is also crucial. That's why we make sure that our team of installers is highly skilled, trained, and experienced, so they'll meticulously install your windows to ensure that they perform as intended for many years to come.
Guarantee
We back our windows with a one-year installation warranty in addition to an unbeatable lifetime product warranty, so you can rest assured that your investment is thoroughly protected.
If you'd like additional information about our home window replacement services, contact Quint-Pro Siding & Windows today. We'd be happy to answer any questions you may have and tell you about the convenient financing options we offer to Rowlett, TX, homeowners who qualify.