Home Window Replacement Services in Plano, TX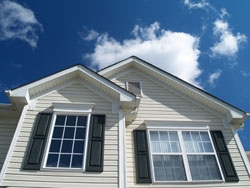 If you're looking for home window replacement services in Plano, Texas, you don't need to scour the internet for hours; simply turn to the trusted experts at Quint-Pro Siding & Windows. We are a home improvement company that prides ourselves on providing a top-of-the-line selection and finished results that truly wow our clients. In fact, we maintain a prestigious A+ rating with the Better Business Bureau year after year for our continual dedication to excellence.
A Selection You'll Love
At Quint-Pro Siding & Windows, we offer replacement windows that are made of vinyl and crafted to provide numerous benefits. For instance, they are energy efficient, thanks to features such as argon gas fills, foam-filled frames, and advanced weatherstripping, all of which work together to help increase your home's thermal performance and lower monthly energy costs.
In addition to being energy efficient, replacement windows we offer are:
Aesthetically versatile, and can be customized to suit homes that are traditional, contemporary, and everything in between
Durable, and will not warp, rot, crack, fade, or stain over time
Low maintenance, so you won't have to worry about scraping, sanding, or re-staining to keep them looking like new
Furthermore, we will install your replacement windows using the utmost skill and expertise, ensuring that they fit your home flawlessly and will be able to perform as advertised well into the future.
For additional information about the home window replacement products we offer, contact Quint-Pro Siding & Windows today. We are proud to serve homeowners in the Plano, TX, area, and beyond.