The Most Trusted Home Siding Contractors in Rockwall, TX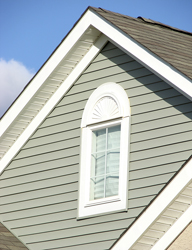 Your siding has the ever-important tasks of safeguarding your home from the elements year after year and enhancing your home's curb appeal—so why would you go to just any company for new siding? If you want to turn to a company that you can trust to provide you with the utmost value for your investment, turn to the professionals at Quint-Pro Siding & Windows. We are the go-to home siding contractors amongst homeowners in the Rockwall, Texas, community because of our commitment to consistently providing:
World-Class Service
At Quint-Pro, we provide highly personalized and attentive service that distinguishes us from a lot of other big-box home siding contractors. Our highly experienced and knowledgeable professionals will sit down with you to get a precise idea of your siding goals—what you want it to look like, how much you want it to cost, etc.—and then apply our expertise to ensure you get what you want.
Top-Tier Products
We provide a varied selection of top-quality siding, including composite siding, vinyl siding, fiber cement siding, and engineered wood siding. All of these options provide a wealth of benefits that homeowners value, including excellent energy efficiency, strength, and durability. Of course, our siding is also customizable, so you can choose from stunning colors, finishes, and styles so your siding will achieve a look that makes your home the envy of the neighborhood.
Expert Installations
Your siding will only perform as well as it is installed, which is why we have a team of highly trained and meticulous professionals who will use best practices to install your siding flawlessly the first time.
If you would like to learn more about the factors that have made us respected home siding contractors, as well as the top-of-the-line products and services we offer, contact Quint-Pro Siding & Windows today. We are proud to serve homeowners in Rockwall, TX, and beyond.