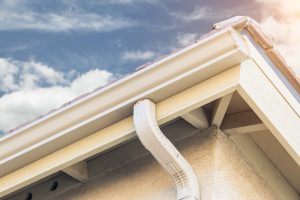 Your Source for Gutter Installation Services Throughout Wylie, TX
Quint-Pro Siding & Windows proudly offers gutter installation services for homeowners in and around Wylie, Texas. If your existing gutters are sagging, leaking, or pulling away from your home, you can rely on our professionals to provide you with the gutter replacement services you need.
Why Choose Us as Your Gutter Installers?
At Quint-Pro Siding & Windows, we proudly offer top-of-the-line gutter systems for homeowners throughout the Wylie, TX, area. Our products include:
Seamless gutters – Our seamless gutters are custom-made during the installation to ensure a perfect fit for your home. Free of the seams and gaps that traditional gutters can have, our seamless gutters offer a more streamlined aesthetic.
Gutter covers – Our gutter covers are expertly designed to keep leaves, twigs, and other debris out of your gutters. The nose-forward design of our gutter covers helps guide this debris over the edge of your gutters and onto the ground for a low-maintenance gutter solution.
You can also rely on us for expert gutter installation services. We'll work diligently to ensure your project is a smooth process that provides you with the gorgeous, finished results you desire for your home. Your new seamless gutters will be custom-made on site during the installation and carefully installed, ensuring a perfect fit and finish for your home.
To learn more about our gutter installation services, contact Quint-Pro Siding & Windows today. We proudly offer gutter services in Wylie, TX, and all nearby areas.