A Professional Gutter Installation for Your Sachse, TX, Home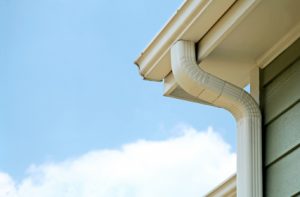 At Quint-Pro Siding & Windows, when we install new siding on your Sachse, Texas, home, we can also provide a new gutter installation to ensure your siding is properly protected from rain and snow. Leaving your old rain gutters in place after a new siding installation can severely damage the siding.
Seamless Gutter Replacement
When we give you a new gutter installation, we use seamless gutters to remove the logjams that seams can cause when yard debris falls into your gutters. Our professional gutter installers lay out your gutter with all its turns as it goes around your home, then install it using screws, instead of nails, to make sure it lasts as long as possible.
With your new gutter installation, we can also put a gutter cover in place to prevent yard debris from falling into your gutter replacement in the first place. The leaves, twigs, seed pods, and other scraps are redirected to the ground instead of potentially clogging your gutter. With a gutter cover, you never need to clean out your gutters again.
When we do a gutter installation as part of a siding project, your gutter is covered under our lifetime product warranty and our one-year installation warranty.
Why You Should Choose Quint-Pro Siding & Windows for Your Gutter Installation
Quint-Pro Siding & Windows provides best-in-class products and exemplary customer service. We hold an A+ rating from the Better Business Bureau and a 5-star rating on Google with more than 110 reviews. But we're proudest of our long list of satisfied customers, who talk about our professionalism, our quality of work, and our value for the products we install. We'd love it if you would join that list. Contact us today to discuss a new gutter installation with your siding project for your Sachse, TX, home.