Fiber Cement Siding for Homes in the Rockwall, TX, Area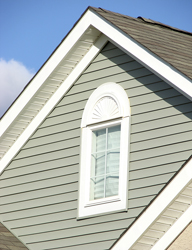 Fiber cement siding is a popular option among homeowners in and around Rockwall, Texas, thanks to its exceptional performance capabilities and attractive aesthetics. The siding on your house is battered day in and day out by the wind, rain, UV rays, temperature fluctuations, and other harsh elements. Yet, house siding has the pivotal task of, not only protecting your home from these external elements but enhancing your home's curb appeal while doing so. Fiber cement siding is a great option that can handle both of these important tasks with ease.
If your existing house siding is sagging, missing in places, or otherwise deteriorating, it's time to have it replaced. If you're looking for house siding that will hold up in extreme weather conditions and provide your home's façade with a fresh and sophisticated makeover, then turn to the professionals at Quint-Pro Siding & Windows. We offer area homeowners top-of-the-line fiber cement siding that is crafted with strength and style in mind.
Benefits of Fiber Cement Siding
At Quint-Pro Siding & Windows, we offer fiber cement siding that is made by an industry-leading manufacturer and designed to provide a bevy of benefits. For instance, this type of siding:
Is engineered to stand up to weather, water, fire, pests, and all of the other conditions that are typical of your region without swelling, cracking, rotting, or warping over time
Will stand the test of time on your home, providing lasting protection against all types of weather conditions over the years
Has ColorPlus® technology that will prevent its surface from chipping, peeling, cracking, and fading in the sun, so it will maintain its like-new appearance for decades to come
Is available in a wide range of colors to complement and enhance your home's aesthetics, so you can create the exterior aesthetics that are just right for you
Is five times thicker than vinyl, allowing for deeper grooves and an authentic, elegant wood-grain effect that will give your home a stunning appearance
Professional Fiber Cement Siding Installation Services
In addition to providing top-of-the-line fiber cement siding, our professionals will install your fiber cement siding properly to ensure that it performs as intended for decades to come. Fiber cement siding is a heavier material that requires extreme care to install properly, and our experienced siding contractors have the skills and experience to ensure your fiber cement siding is properly secured to your home to maximize its performance over the years.
We will even take additional measures during the fiber cement siding installation process, like wrapping your whole home and using parts like hurricane clips and tie-backs to prevent damage from rain and moisture. Once we're finished, you can expect your new house siding to look great and stand the test of time on your Rockwall, TX, home.
Get Started on Your Siding Replacement Project
Contact Quint-Pro Siding & Windows today to learn more about the fiber cement siding that we offer to homeowners in the Rockwall, TX, area. We'll be glad to get you started with a complimentary consultation.