Energy-Efficient Windows are a Smart Investment for Rockwall, TX, Homeowners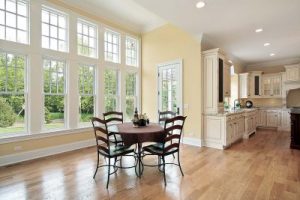 With scorching summer days, frigid winter nights, and soaring energy prices, energy-efficient windows simply make sense for Rockwall, TX, homeowners. If your existing windows are drafty or you've noticed a temperature change when you walk into another room in the house, your windows may be to blame. At Quint-Pro Siding & Windows, we proudly offer and install energy-efficient windows that will enhance the thermal performance of your entire home.
Features of Our Energy-Efficient Windows
At Quint-Pro Siding & Windows, our Advantage Plus vinyl windows are a top choice among Rockwall, TX, homeowners who want an energy-efficient product for their home. Our energy-efficient windows feature:
Low-E glass coatings – These completely transparent glass coatings help deflect heat from the sun's rays, preventing them from passing through into your home.
Argon gas fills – Argon is a dense gas that is used between the panes of glass in windows as a highly effective layer of insulation.
Premium weatherstripping – Every element of your window must be properly sealed to prevent air infiltration, and our premium weatherstripping helps accomplish this.
Multi-chambered frames – The chambers inside the frames themselves help prevent heat transfer.
All of these components work together to provide you with a highly energy-efficient home environment. What's more, our care and attention during the window installation ensure you'll be able to maximize the benefits of these great features as well. We'll ensure your energy-efficient windows are properly secured and sealed in place for long-lasting performance.
To learn more about the energy-efficient windows we offer and install for homeowners throughout Rockwall, TX, contact Quint-Pro Siding & Windows today.