Drafty Window Solutions for Homeowners in the Rowlett, TX, Area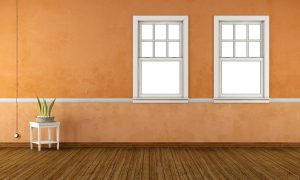 When you stand next to your windows, do you notice that it feels different in that area than the rest of your home? Perhaps it is colder by your windows in the winter and warmer when you stand near them during the summer. Maybe you have even noticed your energy bills are higher each month. The problem is drafty windows, and at Quint-Pro Siding & Windows, we have the solution. We can outfit your home with windows that are made of vinyl and have several energy-efficient features, including:
Low-E glass – Special coatings reflect infrared light, helping to keep heat inside your home during the winter and outside during the summer.
Gas fills – Odorless, colorless, non-toxic argon and krypton gases between glass panes are thicker than air, so they provide superior insulation.
Warm edge spacers – A spacer keeps a window's glass panes the correct distance apart, which helps reduce heat transfer through the window.
Multiple panes – Multiple panes with gas-filled panes between them help insulate far better than single-pane windows.
Together, these features will help maintain comfortable temperatures inside your home year round, which will reduce the strain on your HVAC system and potentially lead to lower monthly heating and cooling costs.
But, That's Not All…
At Quint-Pro, our vinyl window solutions do more than just prevent drafty pockets within your home; they are also exceptionally durable, low maintenance, and beautiful. In fact, we are so confident in our windows that we back them with a lifetime warranty, so you can feel confident your investment is protected.
Contact Quint-Pro Siding & Windows today to learn more about our drafty window solutions and to schedule a free consultation at your home in the Rowlett, TX, area.