Double-Hung Windows for Homes in the Allen, TX, Area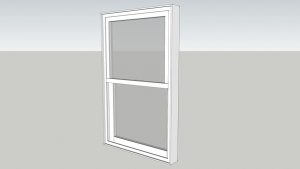 Double-hung windows are a classic choice for any home, and we have the highest caliber selection at Quint-Pro Siding & Windows. Our home improvement company has been lauded for providing masterfully crafted products that give our customers the utmost value for their investment, and that's exactly what you'll get with our windows. Made of vinyl, our replacement windows offer excellent:
Ventilation – Double-hung windows have two operable sashes, so when you open both at the same time, you'll get double the ventilation that single-hung windows provide.
Ease of maintenance – We offer tilt-in sash options for our double-hung windows that will allow you to easily clean both sides of the glass panes from within your home.
Energy efficiency – Our double-hung windows will help insulate your home, keeping its interior warmer during the winter and cooler during the summer. This will help stabilize your home's temperatures and lower the strain on your HVAC system, which can lead to lower monthly energy costs.
Durability – Our windows will remain resistant to warping, rotting, cracking, chipping, peeling, fading, and staining over time.
Our Installations Are Second to None
Our double-hung windows are installed by master craftsmen who will take the time to install your windows flawlessly and ensure they perform as advertised long into the future. We also back our double-hung windows with an unbeatable lifetime warranty, so you can feel confident knowing your investment is protected.
Contact Quint-Pro Siding & Windows to learn more about the beautiful, high-performing double-hung windows that we offer to homeowners in the Allen, TX, area.