Choose Composite Siding for Your Murphy, TX, Home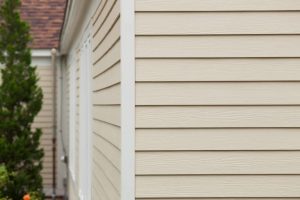 Composite siding is a popular choice when you want or need new siding for your Murphy, Texas, home. The composite house siding we use at Quint-Pro Siding & Windows is Mill Run SolidCore Composite, made of laminated vinyl with a foam backing for insulation.
Benefits of Composite Siding
Composite house siding has many benefits for you, including:
Energy efficiency from the foam backing
Low maintenance due to the vinyl construction
Impact and fade resistance
Lifetime warranty, including hail damage
Never needs repainting
Comes in different styles, including flatboards, dutchlap, and board and batten
Mimics the look of cedar and woodgrains
Available in more than a dozen colors to match your personal aesthetic
Benefits of Quint-Pro Siding & Windows Composite Siding Installation
Quint-Pro is the gold standard when it comes to composite siding installation because we take the time to do it right. Some examples of our exacting process include:
Wrapping the entire house before installation for enhanced protection
Employing hurricane clips and tiebacks to better defend your home against water and moisture damage
Installing a PVC trim that has to be bent by our expert installers to fit your house perfectly
Using a ventilated soffit material for uniformity and protection
Fixing everything to your home with screws, which takes more time but lasts longer than an installation with nails
Why You Should Choose Quint-Pro Siding & Windows for Your Composite Siding
At Quint-Pro, we pride ourselves on our customer service. We hold an A+ rating from the Better Business Bureau and a 5-star rating on Google with over 110 reviews. We have a long list of happy customers, and we're looking forward to adding your name to that list with a composite siding installation on your Murphy, TX, home. Contact us today to talk about your siding needs.