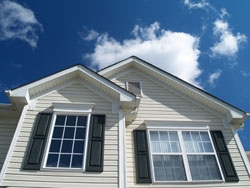 Your Source for Casement Windows & Other Window Styles in Wylie, TX
Are you looking for casement windows for your home in the Wylie, Texas, area? If so, turn to the professionals at Quint-Pro Siding & Windows. We proudly offer and install top-of-the-line replacement windows, including casement and double casement windows, to homeowners throughout the region. We'd be happy to provide you with the professional and stress-free experience you desire as we outfit your home with gorgeous new casement windows that will look great and stand the test of time.
Why Choose Casement Windows
There are many reasons why casement windows are such a popular window style. These windows function similarly to a door, with hinges on one side that allow the entire window sash to swing outward to open. Casement windows are easy to operate using a lever or hand crank, making them perfect for hard-to-reach areas. Additionally, casement windows are different from other window styles in that they allow the entire window space to be opened at once. This maximizes airflow and allows for plenty of ventilation throughout your home.
At Quint-Pro Siding & Windows, we'd be happy to discuss the features and benefits of our casement windows so that you can determine if these are the right windows for your home. Additionally, you can rely on our team to provide you with replacement casement windows that are durable, low maintenance, and energy efficient. We'll ensure you receive high-performing windows that are expertly installed so that you'll be able to enjoy them for years to come.
To learn more about the casement windows we offer and install for homeowners throughout Wylie, TX, contact Quint-Pro Siding & Windows today.